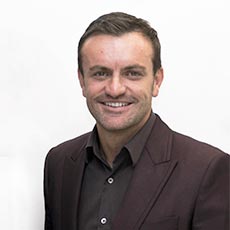 Tony Moss
Chief Executive Officer
An Introduction to Your World
From our conception in 2005, Your World was designed to offer something different to other agencies in our industry. We wanted to create a service that our customers would love and continue to use long term, staffed by people who are fully engaged and passionate about what they do. Our service is all about you – our employees, our clients and our candidates. We pride ourselves on delivering a great career, creating a work-lifestyle balance that gives staff the opportunity to not only be successful and professional, but enjoy coming to work every day.
Over the years, I have had the pleasure of witnessing the company continuing to expand and reach new heights, welcoming more than 300 new Your Worlders to our family. Throughout this time, we have never lost sight of the important values we were founded on.
Here at Your World, we have something truly unique. We have developed an environment that people can feel very much at home in, combining the necessary tools for a dynamic and successful career with an escape from the pressures of working life. We promote freedom of expression, innovative thinking and high levels of engagement with all our employees, which is then transferred to our clients and candidates.
We employ the best and brightest in the recruitment industry and as we continue to grow, we are always searching for new talent to join us. If you have drive, determination and are hungry to change your life and the lives of others for the better, talk to us about our career opportunities, be they in our London Head Office or another of our exciting locations around the globe.
Your Career, Your Family, Your World.
Our Values
Passionate
A compelling desire to be the best at what we do and deliver an exceptional service to all.
Accountable
Ensuring that Your World always maintains our ethos of respect, integrity and trust.
Innovative
An intense focus on matching the needs of our clients and candidates with unique and outstanding staffing solutions.
Professional
Consistently providing the highest standards of service to all who work with Your World.
Our Story So Far...
2005
Your World Recruitment Launches!
Your World Recruitment launches in Sydney and, 6 months later, opens its office in London with a headcount of only 3 people.
UK Headcount: 3
2006 - Hello, London!
The team begins to grow in the UK, making London the official YW Head Office.
UK Headcount: 8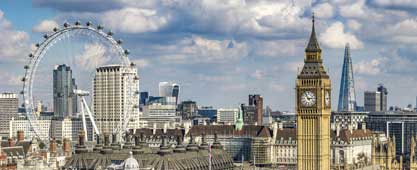 2007 - Meet The 2007 Team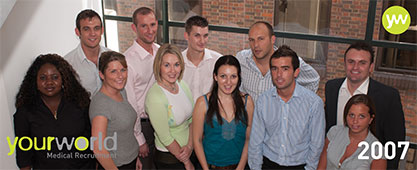 2007 - Positive Steps
Your World Recruitment continues to build a presence in the UK and takes on further team members.
UK Headcount: 11
2008 - A Big Achievement
Your World achieves ISO (International Organisation for Standardisation) certification, demonstrating the company's commitment to quality and continuous improvement.
UK Headcount: 15
2008 - Our 2008 Team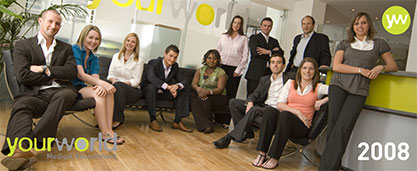 2009 - The More, The Merrier!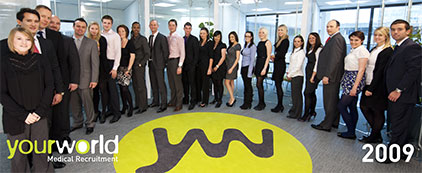 2009 - Devonshire Square
Your World becomes a national authorised supplier of healthcare staff to the NHS via the PASA framework and expands to a new office in Devonshire Square, London.
UK Headcount: 24
2010
2010 - Welcome to The UAE
Your World establishes a presence in the Middle East, growing our client base and working with Emirati nationals from various areas of the UAE.
UK Headcount: 36
2010 - The 2010 Dream Team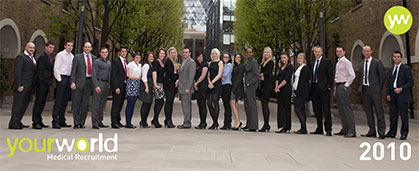 2011 - Our 2011 Your Worlders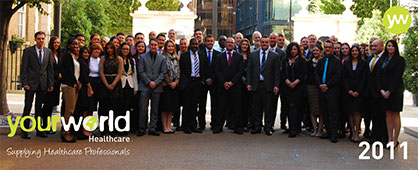 2011 - Australia, Here We Come
YWH Australia PTY Ltd is formed in Sydney for Your World to expand in Australia, catering to the high demand for our services. Your World Recruitment launches the Nursing Division.
UK Headcount: 51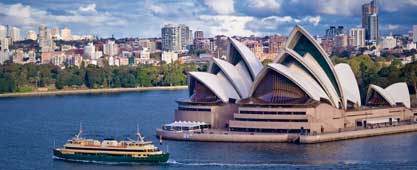 2012 - A Group is Born
The Your World Recruitment Group is formed, covering all of our offices and departments around the world.
UK Headcount: 75
2012 - Still Growing!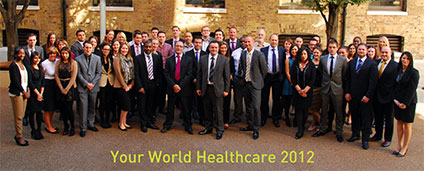 2013 - Over 100 Your Worlders...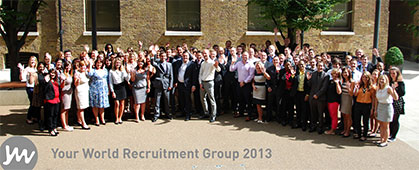 2013 – Look out, Ireland
Your World opens an office in Dublin and welcomes the Ireland Team to the family.
UK Headcount: 110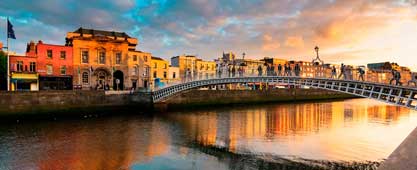 2014 - Our Biggest Office Yet!
YWRG moves to a new location in Broadgate Tower with 146 employees, and opens the doors to a new office in Dublin, ROI. The company is awarded a 2 out of 3-star accreditation with 'Best Companies'.
UK Headcount: 146
2014 - Bye, Bye Devonshire Square...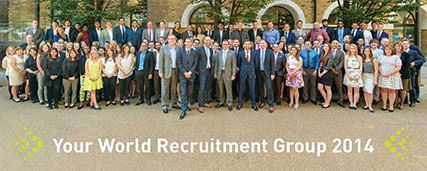 2015
2015 - Hello, Broadgate Tower!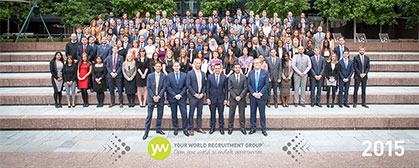 2015 - We Love Dubai
YWRG opens an office in Dubai, UAE as a base for our international operations in the Middle East.
UK Headcount: 193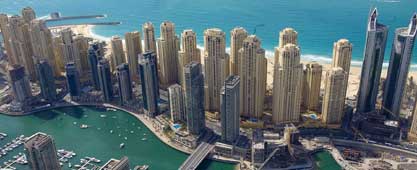 2016 - Your World Ventures Further
YWRG expands to further UK offices in Plymouth and Southampton. A new international office is also opened in Poland.
UK Headcount: 237
2016 - More Than 200 Your Worlders!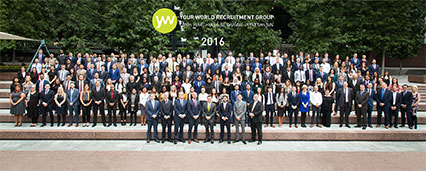 2017 - Our Latest Family Portrait!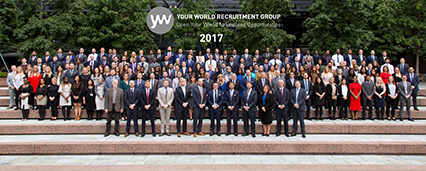 2017 - Class is in Session
YWRG welcomes two new divisions to its family – Your World Education and Your World Professional. Your World Healthcare is named 'Best Healthcare Recruitment Company to Work for'
UK Headcount: 263
Get in Touch
Interested in joining our growing family? Contact our Head of Talent, Harriet today!